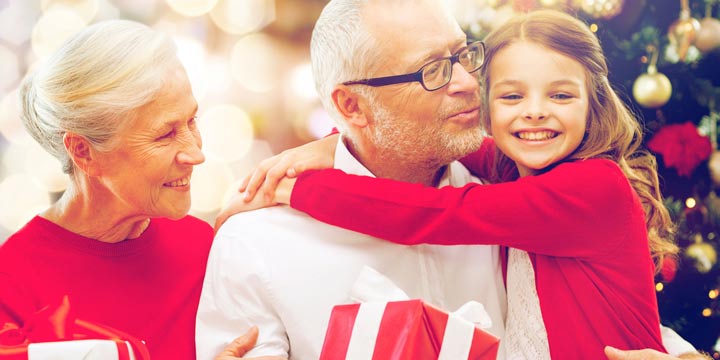 With the holiday season coming, you could be struggling to find the perfect thoughtful-yet-practical holiday gift for an aging parent, grandparent or loved one. If your loved one has down-sized or moved to a senior living community, there may not be room for decorative or knick-knacky items. Practicality often outweighs novelty when looking for the best gift for a senior. Here is a short list of gifts for seniors that you may find helpful as you do your holiday shopping:
Adaptive devices like Audiobooks and television headphones or speakers can bring enjoyment back to reading or watching favorite shows
A large button universal remote simplifies the operation of a TV or home stereo for those with low vision or limited dexterity
Adaptive clothing options like MagnaClick shirts, which replace buttons with easily fastened magnetic closures or Hickies, which is a lacing system that turns any shoe into a slip-on
Walker bags or belt bags to provide hands-free storage while on the go
A weighted blanket (these have been proven beneficial in alleviating insomnia) or heated lap blankets
Desktop UV lamps that mimic sunlight can help to alleviate Seasonal Affective Disorder
A sound/white noise machine to help your senior loved one sleep soundly
A personalized photo book created online or even a scrapbook
A digital photo frame that can cycle through photos
A story telling keepsake – can be digitally done or a physical book
A subscription to a meal ingredient/delivery service
A subscription to an "Item of the month" club
A subscription to Netflix or their local TV provider
A subscription to a pet supply delivery service if they own a pet
The gift of time – take them to lunch, for a walk to the park, sit and play a game with them
No matter what your budget is, a phone call, a visit, or an email providing updates on family members can bring joy to the season for your senior loved one. During the holiday season, it's truly the thought that counts. Your loved one will be happy that you even thought about them and will be appreciative that you took the time to be with them. We hope you found this gift guide helpful. Happy Holidays everyone!