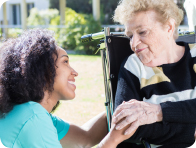 Imagine a job that rewards you caring about others…that is exciting and challenging… a job where you make a difference. Whether you're just starting your career or ready for a change, now is the time to consider becoming a Certified Nurse Assistant (CNA).
Spring Valley Health and Rehab CNA Training Program prepares individuals with the information and the experience needed to become a Certified Nurse Assistant who will provide quality care for residents in long-term care facilities, hospitals, home health care and hospice settings.
Next CNA Class Starting December 1st, 2020
Classes will be held 4 – 8 p.m. Monday-Thursday for approximately 3-4 weeks (until 75 hours are completed).
More classes to follow.
SIGN UP TODAY!
Questions about tuition, tuition assistance, working while in class, schedules available as a candidate, COVID-19 screening and testing while in class, available classes, or the application process? Please contact:
Tami Jackson, RN, Staff Nurse Educator/CNA Program Instructor at 
tamij@svhcs.org
Please fill out the below forms and return via email or mail if interested or registering for class:
Application
Background Information Disclosure