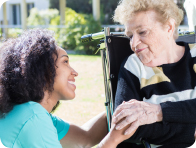 Imagine a job that rewards you caring about others…that is exciting and challenging… a job where you make a difference. Whether you're just starting your career or ready for a change, now is the time to consider becoming a Certified Nurse Assistant (CNA).
Spring Valley Health and Rehab CNA Training Program prepares individuals with the information and the experience needed to become a Certified Nurse Assistant who will provide quality care for residents in long-term care facilities, hospitals, home health care and hospice settings.
Classes are on hold at this time.
Class will be held for approximately 3 – 4 weeks (until 75 hours are completed).
Questions about tuition, tuition assistance, working while in class, schedules available as a candidate, COVID-19 screening and testing while in class, joining our wait list, or the application process? Please contact:
Please complete BOTH the employment application and background information disclosure to apply and send as an email attachment* to: marketing@svhcs.org
*Please do NOT use the "Submit Form" button at the top of the PDF.
Application
Background Information Disclosure