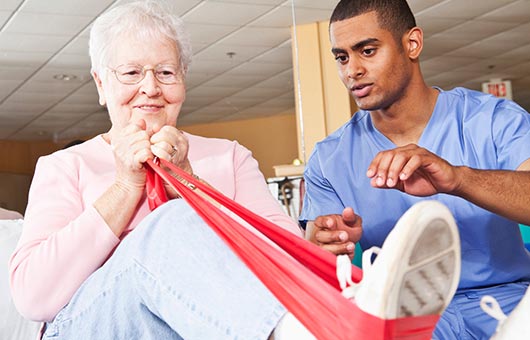 October is National Physical Therapy Month! In celebration, we would like to highlight one of many ways that physical therapy can benefit senior citizens and highlight our on-site physical therapy offerings.
As many adults age, health problems ail them. With physical therapy, many of these issues can be slowed or cured. One problem is sarcopenia, or a decline in skeletal muscle in older people. This is one of the leading ways that older adults lose functionality and independence. A decline in physical activity, common among older people, is only one reason sarcopenia happens. Other contributing factors include hormonal changes, chronic illness, body-wide inflammation and poor nutrition. The great news is that physical therapy can restore a lot of the muscle lost. Physical therapy can help ensure that the exercises are being done properly. A physical therapist will also know exactly what muscles to target and the best way to exercise them. Remember that if you don't use it, you lose it. Varying your exercise regimen can help with this. Having a good amount of protein in your diet also helps to keep muscles strong. Socializing with others, including the physical therapist, helps to keep the mind and emotions strong as well.
We are proud to have our own physical therapy on site with Midwest Physical Therapy. We want our residents to have the best physical therapy possible right at their fingertips. They use hands-on techniques and customize plans to meet each individual's needs.  This is also open to non-residents of our facility. We want our community members to have access to great physical therapy close to home. Please contact us if you are interested in this option.