National Handwashing Awareness Week
December 2nd – 8th
We all know that washing our hands is super important – it helps stop germs from spreading and it keeps us healthy and happy. The Centers for Disease Control and Prevention calls hand washing "a do-it-yourself vaccine" and suggests remembering five easy steps: Wet, lather, scrub, rinse, dry.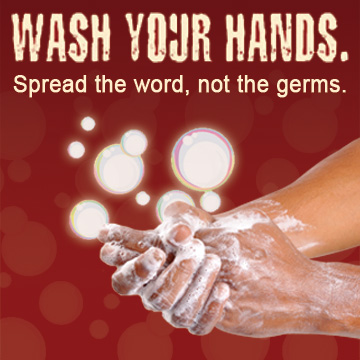 5 Handwashing Facts
1. Handwashing equals happiness
According to the Centers for Disease Control and Prevention, handwashing can prevent 1 in 3 diarrhea-related illnesses and 1 in 5 infections, including the flu.
2. Beware the twin killers for kids
About 1.4 million children under age 5 die from diarrheal diseases and pneumonia — the two most deadly afflictions for children worldwide.
3. The dirty secret of public restrooms
The CDC also reports that only 31 percent of men and 65 percent of women washed their hands after using a public restroom.
4. Handwash your way to health
Using antibiotics creates antibiotic resistance. Handwashing prevents many sicknesses, so people need less antibiotics. Therefore, less antibiotic resistance.
5. Sneezes are mini hurricanes
A typical human sneeze exits the body at about 200 miles per hour and emits around 40,000 droplets into the air.