Valley Villas is our assisted living community. Personalized care and supportive services are offered in the beautiful rural setting of Spring Valley, WI with rental prices determined by the resident's income level. This is the ideal solution for seniors who may need some help with daily activities such as bathing, dressing, and/or medication management, along with the reassurance that someone is always available to lend a helping hand, if needed. We focus on wellness and keeping tenants as independent as possible. You will enjoy our beautiful living spaces, delicious meals, engaging social activities, transportation, and the flexibility to choose care services tailored to your specific needs. We recognize that aging is a normal life process which everyone experiences in their own unique way, so we continuously strive to create an environment that encourages, enriches, and fulfills each tenant's daily life.
---
ASSISTED LIVING SERVICES
One home-cooked nutritious meal daily
Weekly housekeeping
Weekly change/launder of bed linens
24 hour on-site tenant caregivers
Monthly weight and vitals checks
Activities and social events
In-house emergency call system
Adjustable heat and air in each Villa
All utilities included (except phone and cable)
Kitchenette with refrigerator, stovetop, and microwave in each Villa
Spacious common areas and attractive patios
On-site laundry facilities
And more!
---
ROOM AVAILABILITY
Valley Villas offers low-income, medium-income, and market-rate room options. We will work with you to determine which room fits your income levels. Couple discounts also offered.
LOW-INCOME: 0
MEDIUM-INCOME: 0
MARKET-RATE: 0
At this time, we have no available rooms. We invite you to join our waitlist. For more information, to schedule a tour of our facility, or to join on our wait list, please contact us at 715-778-5545.
---
ONE BEDROOM VILLA
Includes kitchenette, full bathroom and large living room (614 Total Square Feet)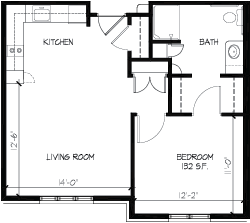 Includes kitchenette, full bathroom, large living room, second bedroom/den, and washer/dryer hook-ups (760 Total Square Feet)