Three Generations Hard at Work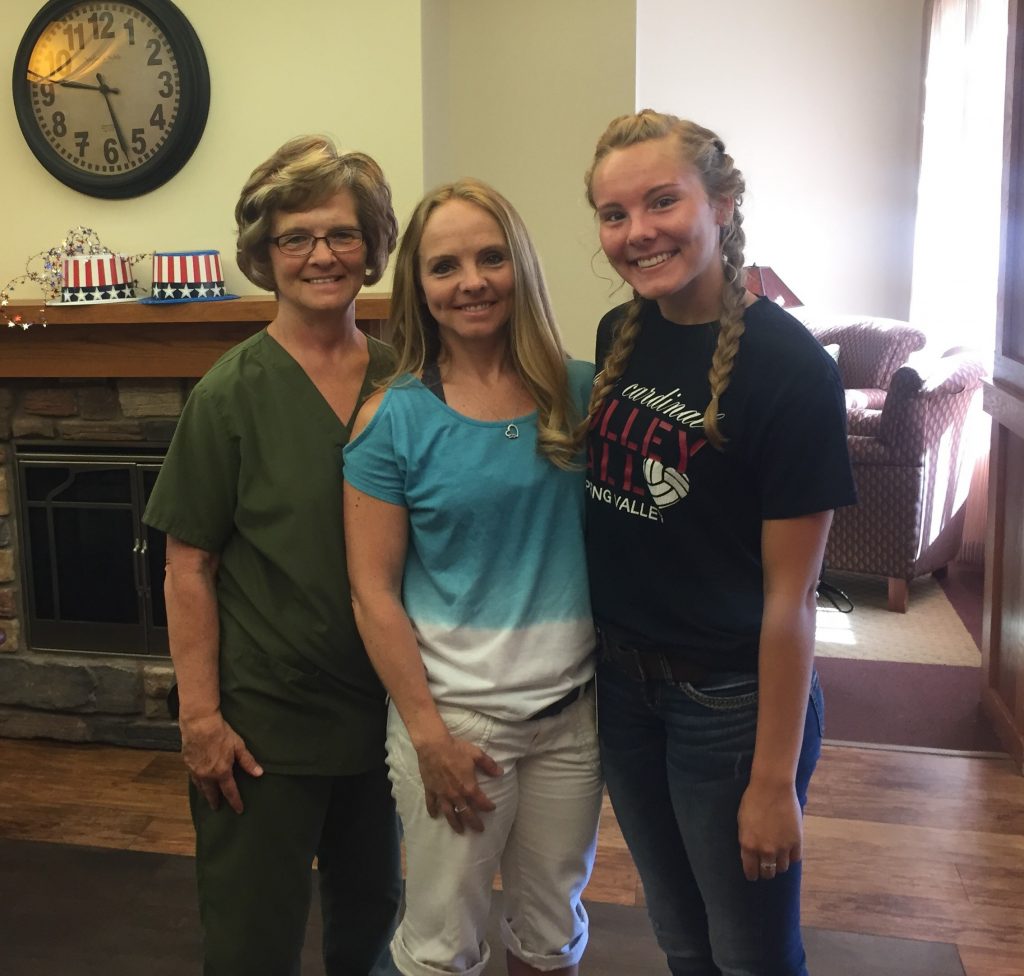 Peggy Lynum, Stacey Wildner, and Jenna Wildner are all employees at Spring Valley Senior Living and Health Care Campus. While they all have different jobs, they have one thing in common-they are family. Peggy is Stacey's mother and Jenna is Stacey's daughter. Combined, they have worked here for 65 years and 4 months. Peggy, LPN, has worked here for 42 years and encouraged Stacey, Administrative Coordinator/Billing, to apply 23 years ago. Stacey recently encouraged Jenna to apply 4 months ago to become an Activity Assistant. Their family has actually been a part of the organization for five generations- Peggy's mom Phyllis and her grandmother Lodena worked here as well.
There are many aspects of working at the facility that they like. "I love working with the elderly," says Peggy, "I want them to feel loved and want them to know we will be there for them for whatever happens with them." Stacey's answer echoes her mom's- "I love the people I work with and love talking to the residents." Jenna thinks that staff and residents are friendly and loves how willing they are to help as well. These women also love getting to work together. They may not see each other every day but it is comforting knowing that they are right down the hall from one another. "It has been a joy for me and makes my day when I see (Stacey) walking down the hall," says Peggy. And although Peggy and Stacey don't generally work the same hours as Jenna, it is fun for them to swap stories and talk about their days. Stacey says, "It warms my heart seeing my daughter Jenna working here now. Watching her interact with the residents is so incredible."
What keeps their family here? The general consensus is the welcoming environment and a passion for working with the elderly. "Our facility is so welcoming and kind. It feels like family. Everyone here is awesome," says Stacey. The flexibility of working for a hometown organization also plays a role. "My job is so flexible. I am still able to do my high school sport and 4-H horse practice in the summer and during school," says Jenna.
The family tradition continues on as Kayla, another granddaughter, also comes to the Care Center with the Cardinal Kids program through the Spring Valley School District and gets to spend time with residents. This family shows no signs of slowing their passion for caring for others and their dedication to the residents truly shows. Thank you Peggy, Stacey, and Jenna for being great employees!